Integral services

This company given its track record of experience puts to its customers services in the various departments.
Integral management department.

Department of financial advice to your business, financing.

Department document management, land registry, notarial, administrative, management etc.

Department of works and finishes, rehabilitation works, paintings, treatments, etc.

Asistentica technical department, projects, reports, topography, etc.

Department of assistance to promoters, individuals, communities, institutions, etc.

legal department.

Department of Insurance as exclusive agents, home, car, health (ask for free quote).
DEPARTMENT OF MOVING, with national and international transport, service of dismantling, packing furniture, lamps, installation and commissioning of electrical goods, hang up pictures, placement of curtains, etc.

comprehensive housing service, ask for a quote.
Op office in Fene - A CORUNA
Information points and management ares, rest province as well as in the rest of the peninsula, with properties throughout Spain, tabajamos nationally and internationally.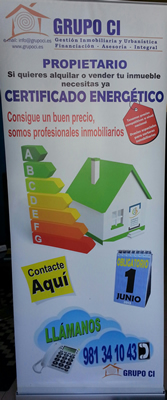 ENERGY MANAGEMENT CERTIFICATES
IF GOING TO SELL OR RENT YOUR HOME OR LOCAL:
You NEED ENERGY EFFICIENCY CERTIFICATE OF MANDATORY FORM FROM 1 JUNE
CONTACT US FOR MORE INFORMATION WITHOUT OBLIGATION
GRUPO C.I. 981341043